Brenda Neely
Brenda has been a ceramicist for most of her life. Both of her parents were very talented and growing up in an artistic household has made Brenda a master! She is known for her wonderfully whimsical hand built brown and white stoneware pieces. One of the most popular items at Caboodle are her teabag holders. These dishwasher safe little bowl/plates are really very versatile. Not only are they good for your teabags but as a spoon rest, soap dish or jewelry holder also! Because the backside of her pieces are unfinished they are perfect for personalizing with a name, date or saying with a sharpie.
Gaia Glass
Karrie at Gaia Glass has a special place in my heart because she was the first vendor to sign on to be a part of Caboodle. Before I had even opened my doors Karrie signed a contract. She has literally been with me since day one. Karrie is a marvel at glass blowing. She creates blown glass hearts, vases, spirit balls, bowls, cups, ghost, pumpkins and more! I must confess that Karrie's blown glass pumpkins are literally one of my most favorite items that I carry all year long. I think her glassworks compares to anything I've seen at other gift shops and usually at a markedly less expensive price. When you buy a piece of glass from Gaia Glass you will not be disappointed.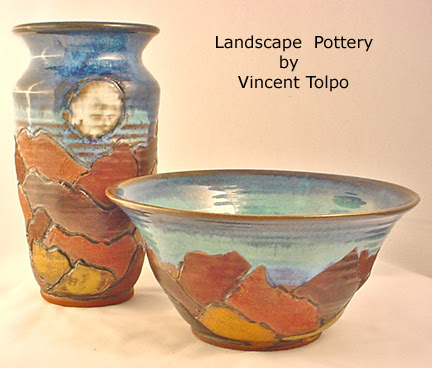 Shawnee Mountain Pottery
Vince & Carolyn Tolpo have been creating wonderful pottery since 1981. There are several finishes to choose from including colors like yellow and purple! The pottery is fired at 2291 degrees F which makes them microwavable, oven safe and dishwasher safe. All of the pottery is lead free and food safe. Custom orders are accepted. One of Shawnee Mountains best selling lines is the Landscape series. This series of pieces incorporates natural clay from around Colorado (of which you get the list with the purchase of one of these items) and used in a way that highlights their natural color and texture to create a mountain scene. These are stunning pieces that will make anyone envious of the fact that you live in Colorado. This is the gift to impress!
Stella Riga
Stella Riga is comprised of a mother/daughter team. One does the ceramics and one does the wiring. Sunny, the daughter, lives in Boulder and says she loves sending all the ceramic pieces to her mom to wire because she never knows what it will all look like when it comes back. Stella Riga creates whimsical one of a kind ceramic pieces that can be wall hangings, wine bottle decorations or ornaments. They can be used for inspiration and celebration
Red Cloud Pottery
Red Cloud Pottery is one of the few vendors we have who has to drive a bit further. Lori hails from Rye in southern Colorado. Her pottery is dishwasher and oven safe. One of the things I really like about Red Cloud are the finishes. Many of them remind me of the sulpher pools at Yellowstone (and they are very shiny)! The outside of many of her pieces look like she just dipped them into the glaze and that gives them a very unique look.
Linda Handman
Linda is a fused glass artist who makes everything from small magnets to large art pieces. Linda calls one of her techniques quilted glass because it looks like a patchwork quilt. Those are my favorite pieces! The selection changes throughout the year as to what we have at Caboodle. No two pieces are ever the same so if you see it and love it you better grab it while you can. Many of Linda's pieces can be art as well as serve a function. It's really up to you how you want to use it!
Blackbird Designs
Linda at Blackbird Design uses the same glass used in stained glass but slumps it to create platters, plates, fluted bowls, nightlights and votive holders. The glass is food safe and dishwasher safe and are very versatile all while adding an artistic element to your table or decorations. These glass pieces are a great way to add some pop without spending a lot of money!
Lee Wolff
Lee's pottery is function and beauty together. She makes much more than what we have on hand at the moment but you can always ask for something if you are needing a specific piece. What we do have are her yarn bowls. These wonderful bowls are for the knitters and crocheters out there. They hold a ball of yarn and the strand goes through the opening so yarn does not get tangled or roll away. We also have her cute little garlic graters. These are small plates with a design etched into them that you rub garlic across to grate it. Then add some oil and spices and you have a great bread dip! Functional art!
Sarah Kasper
Description coming soon.
Harry Goff
Description coming soon.
Peter Steele
Description coming soon.
Chris Ng
Description coming soon.
Karen Sumner
Description coming soon.