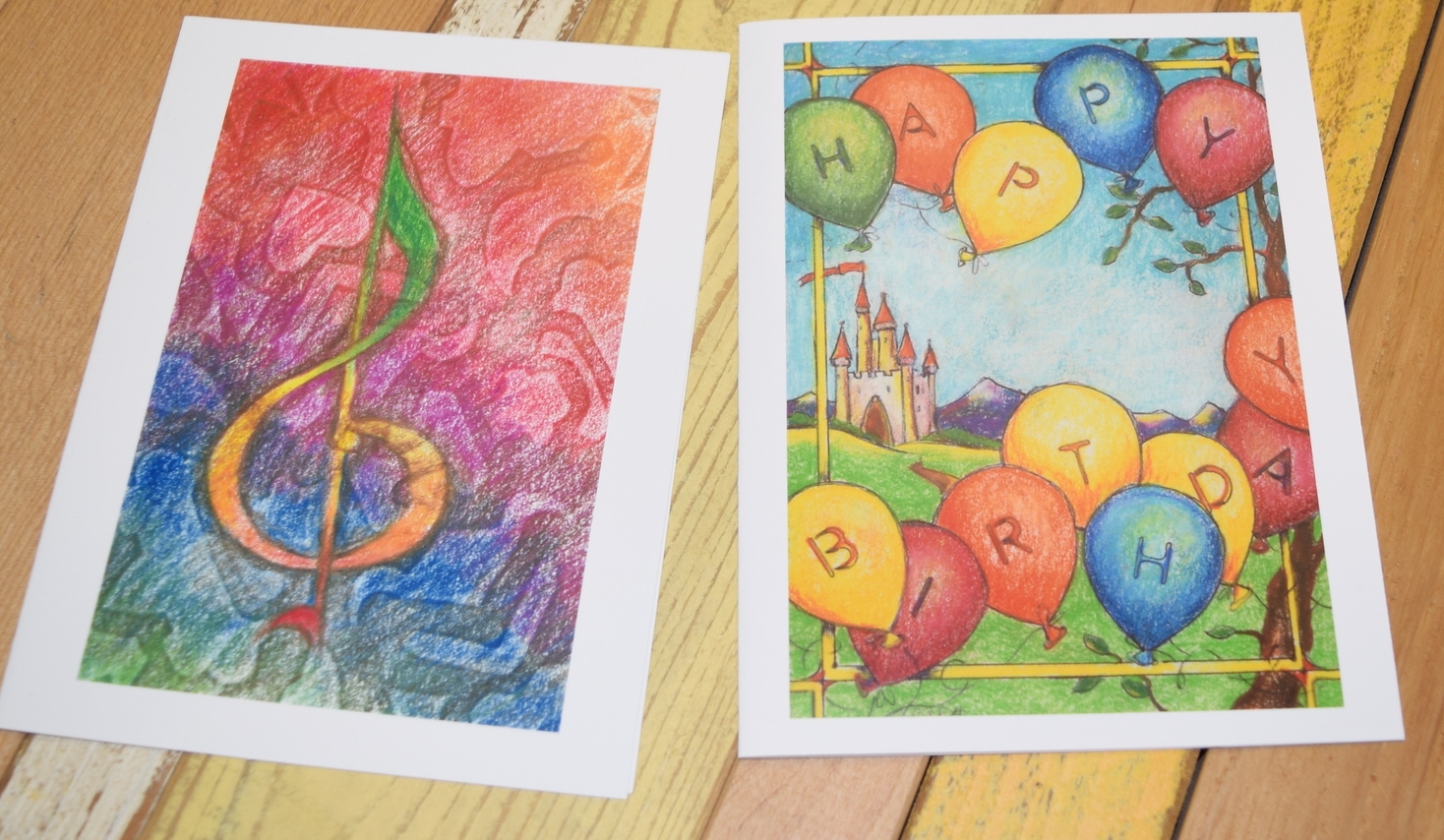 Cheryl Adams
Cheryl has a unique look to her cards. Prints of her original drawings make up these blank cards. Her pictures are cute and to the point. They bring a smile to your face.
Ardith Stine
Ardith at A Small Space Studio, creates colorful, patterned animals and flowers. Then she makes prints, cards, and calendars that are so fun and lively. Ardith's boxed cards come in mixed sets of 12 that are blank so they are perfect for any occasion. We also carry many of her drawings in matted prints. If there is a specific animal or print you like we can order exactly what you want.
Gislinde Englemann
Gislinde has a special place in my heart. She was the first vendor to call me out of the blue and ask to be a vendor at Caboodle. It has been true love ever since! Gislinde makes stamped cards. She has always been innovative and coming up with new designs. Gislinde also teaches a card making class several times a year and has developed a good following. You need to register early for her class because it will fill up. So much so that we have started adding a second session each class day.
Judy Fitzpatrick
Judy is another of our vendors who creates several items for Caboodle. Her cards are our Colorado cards. They have a Colorado map on the front with different themes like skiing, backpacking, hiking or camping. There are more themes but you get the idea. These cards are the perfect way to make everyone jealous that they aren't in Colorado with you! Check out our Jewelry page and Everything Else page for more of Judy's work.
Barb McMahon
Barb is the Heart Queen. All she does is make hearts. She then makes prints that she frames as well as cards. The cards are blank and are appropriate for nearly every occasion. And who doesn't love getting a heart as a gift? Weddings, anniversaries, birthdays, best friends, get well...it works for everything!
Susan Rush
Susan makes something I have not seen anyone else do. She makes a fabric postcard. These are really unique and interesting. These postcards can be mailed with a regular stamp (as opposed to a postcard stamp). It is sure to make it's receiver very happy. I have had comments from many people that they bought them to frame or the recipients said they framed them. The subject matter varies greatly and there are no guarantees that we will have the design you want the next time you come in. So if you see one you like you better snatch it up!
Helen Lozynsky
Helen makes cards with the photographs she takes. All of her cards are original photos and there are cards geared towards men and women. Helen also creates a few other items for Caboodle so check out the Everything Else page for her other products.
Serenitys Way
Sylvia at Serenitys Way makes cards that so eloquently say what is in your heart. We carry single cards but card sets can also be ordered. Cards are themed (such as Few Words, Awakening, Relationship, Gratitude) and each theme has 7 cards. One of the really cool things about Serenitys Way cards is that when you buy a card you also get a postcard with the sentiment written on it that you can keep or give away. More than likely you will want to keep it because the sentiment is so touching. In addition to the cards we have 8X10 posters of many of the sentiments. If we do not have it we can order it!
Laura Harlow
Laura makes cards with pressed flowers. She wonderfully coordinates her papers with the flowers she presses. Her cards are blank so they work for every occasion.
Steve Haun
Steve Hahn grew up in Boulder among the beauty of nature. Steve has 8 Cd's (but we only have three in the store at this time). The CD's we have in Caboodle focus on the Rocky Mountains and the National Parks. These CD's use sounds from nature to enhance the music that Steve has produced. When you listen to Steve's music you feel like you are in the midst of the vast outdoors! The perfect way to get away when you can't really go anywhere!
Elijah Bossenbroek
Elijah's CD's are one of the few items at Caboodle that aren't local but I think well worth it. Elijah's music is modern classical piano. I found Elijah online and just fell in love with his sound. It's wonderful background music and when it is playing in the store people often ask me what is playing. I could listen to Elijah all day (and often do!).
Dave Villano
Dave Villano is a native of Denver and a wonderful young musician who has been playing professionally since 1990. He can play a variety of instruments proficiently but focuses on guitar, violin and the Irish whistle. Dave has performed with Shaded Red and is currently a member of Dave Beagle's Acoustic Band and has even performed with the London Philharmonic Orchestra. All of this while working on his own music. Dave currently has five CD's out of his music. His music is mostly instrumental (but it doesn't put you to sleep-well, maybe Relax or Sleep Sensations does but I think that might be the goal) What I like about Dave's music is that you can listen all the time. It makes great background music for the day. It's not too much and you aren't snoring. His Christmas and the Hymns CD's, while adding his own touch, are still classic. As with all the music at Caboodle, you can listen to the CD at the store before you buy.
Firesign Quartet
Firesign Quartet is a local quartet with two albums; Follow We This Joyful Birth (a Christmas album) and Mass For Four Voices. Donna Wickham, Terry Schlenker, JoAnn Gudvangen-Brown and Ben Riggs create hauntingly ethereal sounds. If you like monastic chanting then you will love this group! Both of these albums create an atmosphere of serenity.
Sal Smith
Sal is also a Denver native and has been singing as long as I've known her (and I think long before I knew her!). At the present time Sal's CD is the only Cd at Caboodle with lyrics. Sal's style is accoustic and her CD includes original music as well as some beloved classics. Listening to Sal's music takes me back to my days at camp and my wedding. Sal sang at my wedding! The hardest part of having her music playing all day is that I am constantly singing along and I'm not so sure the customer want to hear me!
Barb Warner
Barb is the author of Keep Your Fork, Dessert is on the Way: Savoring the Second Half of Life. A wonderful little book about what to do with the second half of your life. As you age you are not just 20 years older but also 20 years wiser. Barb speaks to life experiences such as change, creativity, gratitude, life stories and resilience. What do you want to do with the rest of your life?
Mary Ellen Weiland
M.E and My Shadow:Wisdom From a Four-Legged Master was written by Mary Ellen after a tragic life event that led to her adopting a black lab named Shadow. Shadow taught her how to persevere, how to believe and trust in herself and how to give of herself fully to another human being. Mary Ellen started out as a customer at Caboodle before becoming a vendor. Our copies of her book are all signed. This is a great gift for anyone who may be looking for some answers in life. This book has won a few awards also
Windom Publishing
Windom Publishing is a local publisher who made an incredible book with a local author and local illustrator. The book is called Jesus From A to Z, written by Kevin Graham and illustrated by Jennifer Yoswa. This book is a great introduction for children to the life of Jesus. It is an alphabet book with captivating stories and remarkable oil painting pictures.
Tessa McEvoy and Robin McEvoy
Robin and Tessa are a mother/daughter team who created a book that is close to their hearts. Robin wrote the text and Tessa drew the pictures. The book is a great way to approach dyslexia on a level that a young child can understand. This is a great resource for individuals and classrooms. Bulk orders are available.
Haas Enterprises
Haas Enterprises creates a little box of awesome. Have you ever been in that rare situation where you finally get a few minutes to yourself but you don't know what to do with them? How many times have you promised yourself that you were going to start doing something for yourself? Well Haas Enterprises' little box called Moments of Delight to the rescue! Moments of Delight is a box with 30 cards to reflect or actuponthat help you to slow down, take notice of the world around you and refresh your mind, body and spirit. It even includes a vial of bubbles! Self-care is something many people have a hard time doing. Moments of Delight will help!
Train Room Photography
Description coming soon.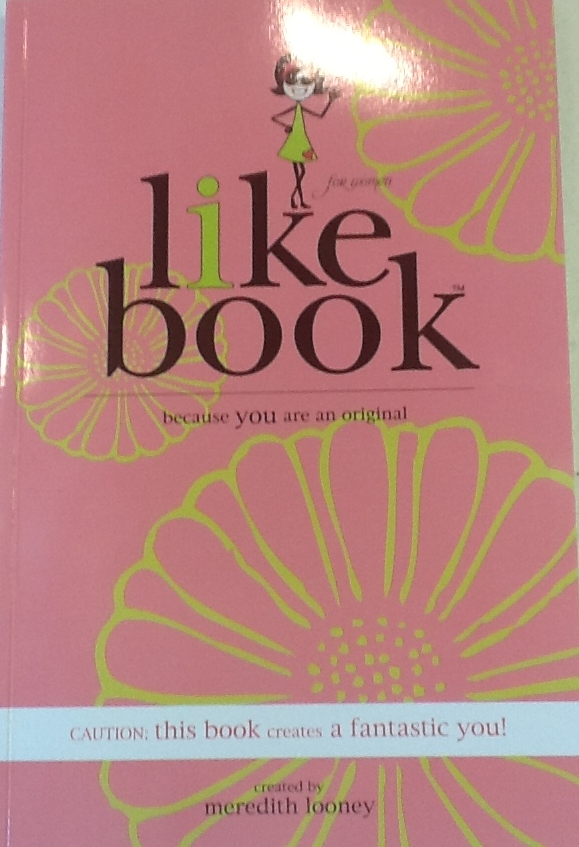 Lucky Looney
Description coming soon.